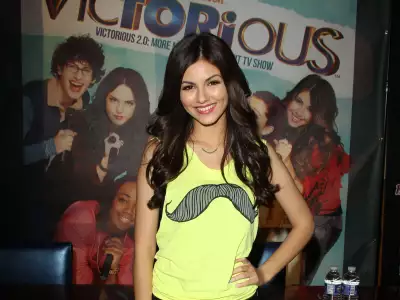 Victoria Justice
Victoria Dawn Justice, born on February 19, 1993, in Hollywood, Florida, is an American actress, singer, and philanthropist known for her versatile talents and charismatic presence in the entertainment industry.
Victoria Justice's journey in show business began at a young age when she demonstrated her singing and acting abilities in talent competitions and local theater productions. Her passion for performing eventually led her to Hollywood.
Her breakthrough came with her role as Lola Martinez on the popular Nickelodeon series "Zoey 101" (2005-2008),where she portrayed a quirky and talented performing arts student. This role introduced her to a wider audience and paved the way for her future success.
One of her most iconic roles was as Tori Vega in the Nickelodeon series "Victorious" (2010-2013). In this musical comedy series, Justice played a gifted singer and performer attending a performing arts high school. Her musical talent and on-screen charisma made her a fan favorite, and she showcased her vocal abilities through numerous songs on the show's soundtrack.
Beyond her television career, Victoria Justice has also ventured into film. She appeared in movies such as "Fun Size" (2012) and "The Outcasts" (2017),showcasing her versatility as an actress.
In addition to her entertainment career, Justice is known for her philanthropic efforts. She has supported various charitable causes, including organizations focused on children's health and well-being.
Victoria Justice's talents extend beyond acting, as she has pursued a music career with singles like "Gold" and "Freak the Freak Out." Her dedication to both her craft and philanthropic endeavors has earned her the respect and admiration of fans and peers alike.
As a multi-talented artist and advocate for important causes, Victoria Justice continues to be a respected and beloved figure in the entertainment industry, leaving a positive impact on audiences worldwide.